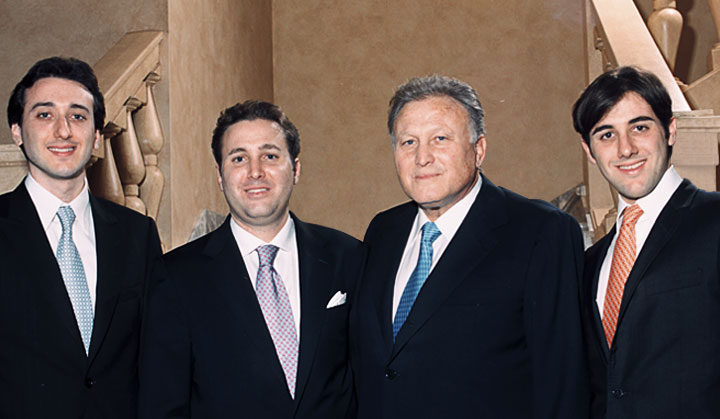 The prestigious and world-renown ZYDO jewelry brand was created in 1972 in Valenza, Italy by Mr. Davide Zybert thanks to his life-long flair and expertise in the diamond and jewelry business. From its very beginning, ZYDO jewelry has been designed and crafted from elegance, innovation, exclusivity and style that were inherited from the Zybert family tradition of diamond cutting and dealing. Proud to be a family run company of enormous worldwide success and recognition, ZYDO's management remains in the hands of Mr. Zybert's sons. Mr. Jack Zybert, VP of Sales, and Mr. Roberto Zybert, Production Director and Designer Coordinator, are based in Italy and oversee the European and Asian markets. Mr. Eli Zybert, based in the US, manages the American and Latin American markets.
As one of the few Italian jewelry brands that still host 100% of its production in the Golden City of Valenza, ZYDO ensures the finest quality of production that can only be expected from Italy's craft masters. ZYDO designers are of superior creativity, taste and inspiration and always design around the stone's unique and nature-given magnificence. ZYDO's stunning jewelry collections highlight classic elegance with a refreshed sense of modern sophistication. Market changes, fashion trends and of course, the customer, are all taken into consideration during the inspiration process for every ZYDO jewel.
The exceptionally superior quality of each diamond and gemstone, as well as ZYDO's outstandingly innovative design makes every ZYDO jewel a truly precious work of art that transcends trends and becomes a timeless treasure of luxury. ZYDO stands for impeccable diamond selection, perfect craftsmanship, and high-end design.
The ZYDO woman wears jewelry as a symbol of supreme style. She's fashionable, empowered and sophisticated. ZYDO's celebrity clientele, Royal Families, important individuals, and jewelry lovers around the world, embody the prestige and charming allure of ZYDO as they proudly wear their ZYDO creations.
ZYDO marks its presence worldwide, as its unique and distinguishable jewels are present in some of the best and most elegant jewelry boutiques. The company's headquarters are located in the avant-garde WJC, World Join Center, in Milan, a luxurious space that hosts all managerial activities as well as a state-of-the-art display area to showcase its fabulous collection. In the US, the collection is distributed through the IJA showroom located on the corner of the prestigious 5th Avenue in New York.